So, after my stunning performance in the first annual Kill & Chill Rifle Shoot competition
I decided it was time to finally get out and pattern those new buckshot loads I bought. I had heard suggestions that buckshot loads may actually shoot tighter groups when fired through a more open choke. So, I wanted to see how different choke tubes effected my patterns, too. This past Saturday I found a secluded spot along some powerlines in the woods and took some shots at paper. I think I learned some things and thought I would share with you guys and hope you can get some benefit from it, too.
The equipment
shotgun: Remington 870 WM Mag with Remchoke - 12 gauge
Choke tubes: standard Remchoke IC, M, and F
loads: 1) 2 3/4" Remington Express #4 buckshot - 27 pellets
2) 3" Winchester Supreme #4 buckshot - 41 pellets
3) 3" Federal Vital Shok #4 buckshot - 41 pellets
sight: Truglow red dot sight mounted on the vent rib of the barrel.
The procedure
I fired one round of each load from each of the three different choke tubes. The target was a large piece of paper at a range of 30 yards. Shots were fired from a standing position off a makeshift monopod. After the shots were fired I drew a 12" X 12" square around the bullseye. I counted up the number of hits on the paper and the number of hits inside the 12"X12" square. The paper itself measures 20.5" across - left to right.
The results
First up was a test round using the Remington Express 2 3/4" #4 buck through the full choke. This was my "control" round, if you will, to serve as a comparison for the premium rounds to follow. This Remington Express ammo is the economy grade commonly found in the department stores and sports stores. It is buffered but not plated.
Remington Express Full Choke
Now to start with the premium ammo. These rounds are more expensive and harder to find. I had to get them on-line. Like the Remington Express, the load is buffered. But, the pellets in these loads are plated and supposedly more uniformly round than the unplated pellets. There are also 41 pellets per shot instead of 27. First, I fired through the improved cylinder choke. Right away I was impressed by the improvement made by the greater pellet count. I also noticed that the premium ammo is putting a greater precentage of its pellets inside the 12" box with the IC choke than the standard shot did with the full choke.
Federal Vital Shok 3" / Improved Cylinder
Winchester Supreme 3" / Improved Cylinder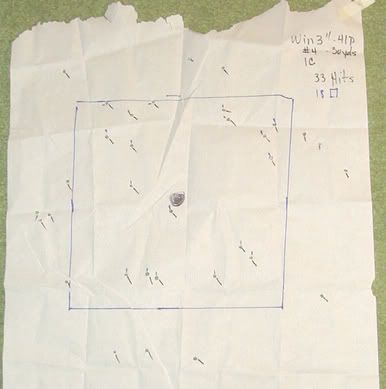 Now on to the Modified Choke. I didn't notice a huge difference here. The Winchester loads seemed to be very similar to the IC results. The Federal loads did improve somewhat with the tighter choke.
Federal Vital Shok 3" / Modified Choke
Winchester Supreme 3" / Modified Choke
Finally, I test the full choke.
Federal Vital Shok 3" / Full Choke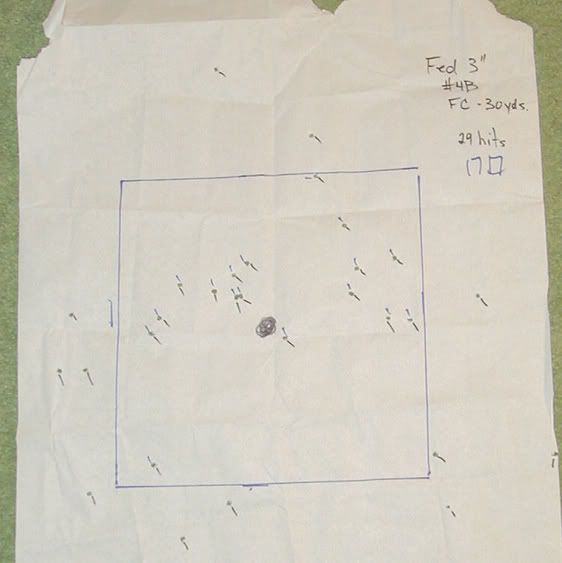 Winchester Supreme 3" / Full Choke
HOT DANG!
I think I found my load. The Winchester Supreme put all 41 pellets on the paper and an amazing 83% of those inside the 12" box. I tested this load again just to make sure it wasn't a fluke
Winchester Supreme 3" / Full Choke - TEST #2
Not quite as good this time but still impressive.
Now, here's the numeric results grouped by choke.
Load.......#pellets on paper/(%)......# pellets in 12" box / (%)
Improved Cylinder Choke
Federal Vital Shok.........25 / (61%)..................13 / (32%)
Winchester Supreme......33 / (80%)..................18 / (44%)
Modified Choke
Federal Vital Shok.........31 / (76%)...................17 / (41%)
Winchester Supreme......33 / (80%)...................18 / (44%)
Full Choke
Remington Express........26 / (96%)...................8 / (30%)
Federal Vital Shok.........29 / (70%).................17 / (41%)
Win Supreme#1............41 / (100%)................34 / (83%)
Win Supreme #2...........38 / (93%)..................27 / (66%)
Conclusions
1. The chokes work as expected - at least with #4 buckshot in my gun. The idea that buckshot shoots tighter groups through a choke with less constriction does not appear to hold true. Tightest groups came with the full choke.
2. The ammunition used makes more of a difference than the choke used. The high grade ammo with IC choke placed a greater percentage of its pellets inside the 12" box than did the economy buckshot with full choke. The three inch loads have about 50% more total pellets and that seems to translate into a linear 50% more pellets inside the box.
3. Recoil from these rounds is considerable. I can shoot target loads at clay pigeons all day long and never feel a thing. But shooting a dozen or so of these 3" loads gave me a headache and a sore shoulder. I'm sure you would never even notice the recoil of these loads when firing at game in the field. But at the range they start to sting after a while. I've got some 3" shells with 1 7/8 ounces of 4 shot that are even worse - real slobberknockers.
4. A red dot sight mounted down the barrel is an absolutely awesome shotgun sight. Both eyes open, lightning fast target acquisition, adjustable for windage and elevation, awesome in low-light and dark conditions. I don't have to aim at all, just look at the target, shoulder the gun, and I see the red dot on the target. I can't recommend this system enough for shooting buckshot and slugs. I even tried shooting at some crows in flight with it and it came as natural and easy as pointing a bead. Plus, with the sight mounted on the barrel, the point of impact doesn't change every time you remove the barrel like it would with a receiver mounted sight on a shotgun. If fired at least 50 heavy round through mine and it has held up flawlessly.
Here's some pictures of my shotgun and the red dot sight mounted.
And, here's a close up of the sight and the Aimtech RibRider mount.
Now if you'll excuse me, I need to visit cabelas.com and order me up some more of that Winchester Supreme #4 buckshot!